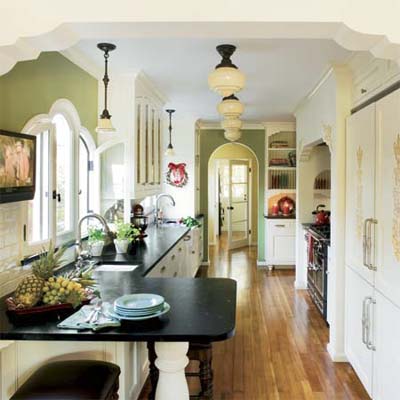 Bad enough were the worn cabinets and awkward layout, but the room also lacked the kind of details found throughout their home, which has arched doorways, wrought-iron work, and an art-tile fireplace surround. Alicia, an avid cook, craved a top-notch range, and with the family having grown to include three children, they needed more food storage. Kitchen designer Dana Jones's solution delivered both without adding on. By incorporating a butler's pantry—just one cabinet and a swinging door between the kitchen and the dining room—she gave the room an extra 50 square feet, allowing for more counter space, a snack peninsula, two sinks, an alcove for the pro-style range, and a double refrigerator-freezer.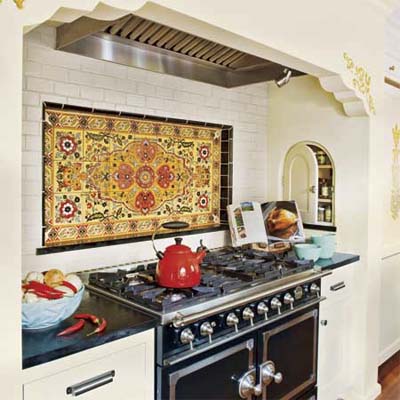 he stove alcove, set off with a cascading arch and hand-painted tile mural, highlights the showpiece range.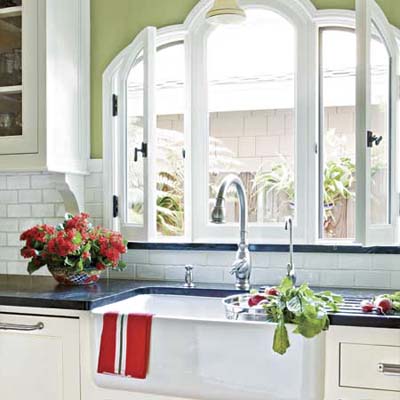 The farmhouse sink is a period-appropriate choice, and its deep basin conceals dirty dishes. The arched casement windows' soapstone sill is both handsome and practical.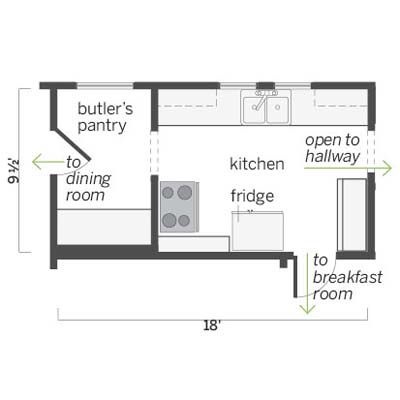 The freestanding stove and refrigerator had no adjacent counter space; a butler's pantry added two extra doorways.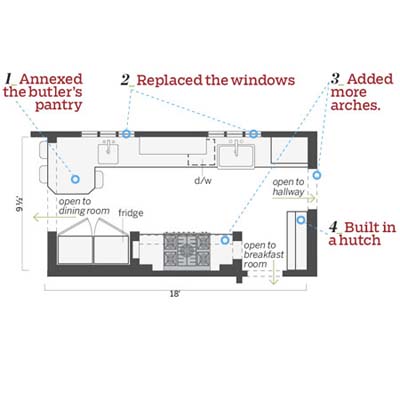 The kitchen now opens up to the dining room via a wide arch; it has a long counter and small breakfast bar. The range alcove lines up with the fridge for a clean look.

1. Annexed the butler's pantry that led to the dining room, removing one wall and creating a wide archway in the other. This made space for an extended counter and breakfast bar on one side and a 60-inch fridge on the other.

2. Replaced the windows with identical sets of triple-arched casement models that echo arches throughout the house.

3. Added more arches. The doorway to the adjacent hall got a simple Roman curve; the alcove for the range got a cascading arch.

4. Built in a hutch with a serving counter along the entry to the breakfast room.
Images: This Old House.
A personal idea:
This fabric is very beautiful, from
Soane Britain
, do you like it?