Lady Henrietta at Blenheim Palace, Oxfordshire. 2012.
Daughter of the 11th earl of Marlborough,
Lady Henrietta Spencer-Churchill
spent a good part of her youth at Blenheim Palace in Oxfordshire, England, where the walls are lined with portraits of her ancestors, going back 300 years. Her brother, Jamie, will one day be Lord of the Manor. As author of nearly a dozen books on homes, gardens and interiors, she still finds time to write a column on design for the
Financial Times
and runs two interior design firms: Woodstock Designs and Spencer-Churchill Designs Inc. Last spring, she teamed with
Maitland-Smith
to launch a furniture line, and her latest book,
The Life of the House: How Rooms Evolve
(Rizzoli), is
available now.
Book Cover edited by Rizzo. 2012.
When you are researching a book, do you get ideas for other books?
Sort of. I think I always have ideas for another book. I have to sort of curb my ideas and make sure they are ideas that are going to be popular and make sure that whichever publisher that is going to publish the book is keen on the idea and they are behind it.
Your book "The Life of the House" includes some private chapels. Have you ever had to redo a chapel?
Not completely, I would say. I have had to choose paint colors for one, but I've never had to do anything structurally and provide cushions for pews [laughing]. Lighting is always quit challenging in any environment but especially for chapels. In America, I've seen a couple of houses that have more like prayer rooms. So they are designated within the house, but I wouldn't say they are proper chapels.
In the book, you talk about how interior design tastes swing on a pendulum. What about the great room, open kitchen concept -- do you see that changing anytime soon?
I don't think so with the lifestyles everyone leads today. The house has to be a lot more functional and user-friendly and multifunctional. Gone are the days where people are going to have lots of servants and live in that way. I think it's very unlikely it would go back to how it was. A lot of houses actually have two kitchens. One is much more an industrial-type, where it might be used for external stuff coming in when catering for a party. Typically, there would always be a family kitchen where even if the wife's not cooking, everybody would sort of meet and greet and socialize.
The other thing that you point out in the book are the long halls in the old homes that had dual purposes and were used for fencing.
Exercising, I know. I suppose when they had long, big weekend parties and guests were staying and the weather was bad. You know, they didn't have the paraphernalia we have today.
Which room has evolved the most or gone through the most changes?
Hmm, well I suppose there are rooms that were built for certain purposes, which are now pretty much redundant, like long galleries or ballrooms. I mean, a long gallery today is pretty much going to be a redundant room unless you are lucky enough to have a lot of pictures or sculptures.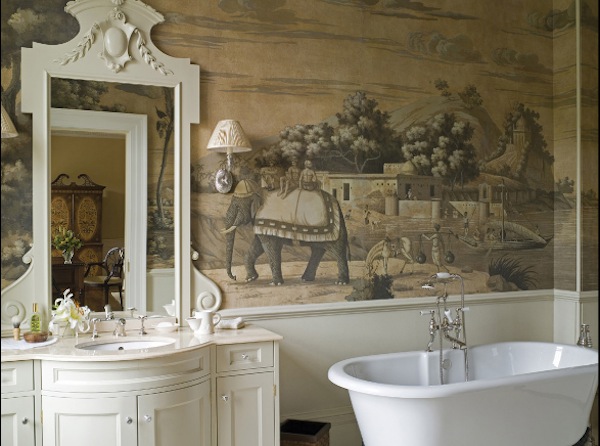 Two of the rooms decorated by Lady Henrietta.
Were you at all intimidated about doing a furniture line?
I loved it, absolutely loved it. I've just got a new collection coming out now at High Point. It's something I've wanted to do for some time because you end up doing it in the jobs I'm doing any way, designing odd pieces of furniture, having things made for people. So to actually get the chance to do my own line -- which is sort of based on classic design but with contemporary twists -- was fantastic.
Are you using items that are already in your home in London or at Blenheim Palace?
No. I have a very extensive catalog of things I've torn out of magazines and largely old auction catalogs. I tend to get my inspiration a lot from them, really.
How old were you when you first understood how historically important Blenheim and the things inside it were?
I suppose I knew I was lucky enough to have been brought up in and around a lot of other really beautiful homes predominantly from the Georgian era. That probably started my love of architecture more so than Blenheim. I suppose as a child I sort of looked at Blenheim as being quite daunting and quite intimidating and certainly not a place where you wanted to bring your friends home for tea [laughing]. Well, you know, you were slightly embarrassed by that. I suppose it wasn't really until later on when I started studying art history in school that I really began to appreciate it.
Do you spend a lot of time there now? Or are you mostly traveling or home in London?
I'm there nearly every weekend if I can be, not there but on the property. There is always something going on. I am always involved with some sort of restoration or new project or something. We've just done a whole massive new gift shop and cafe/restaurant. It was quite a contemporary space in an old space. It was fun, actually. It's sort of concealed behind very large walls, then you go inside and think, "Oh wow!" You're not expecting to see it.
What kind of toll does owning a historic home like Blenheim take on the owners?
Well, if it is still privately owned, then there is a huge toll because most of them don't have any government funding or any grants. The place has to be kept, restored, looked after and pay for itself by events, visitors, all sorts of things.
Do you think that knowing part of the responsibility for Blenheim would be on your shoulders is what got you interested in design and architecture?
I don't think so, no. It was just an interest and a love I had. Primarily, it's not my responsibility at the end of the day [laughing].
Which of your ancestors do you feel you are most like?
I think probably the first Duchess. Yes, definitely. She was sort of very ambitious. She was very hard-working. You know she was involved in many things. It was really her who ran the place because John was away at battle all the time. She was a very smart woman and, you know, for her time incredibly successful in many areas.
© By Patricia Sheridan, Journalist.
{Source: Interview by Patricia Sheridan for Post Gazette, UK. 2012. You can also listening the interview in this link}